VÄLKOMMEN  till dagmart.se
Mitt namn är Dagmar Malmström Nahlin. Jag ägnar en stor del av min lediga tid åt stickning, sömnad och målning. Pärlmuddar, äggvärmare, reflexgarn. Barn – och vuxenkläder, trikå- och flecemössor. Kanske hittar du något som lockar dig här.
WELCOME to dagmart.se 
My name is Dagmar Malmström Nahlin. I spend a lot of my free time knitting, sewing and painting. Maybe you will find something tempting on this site.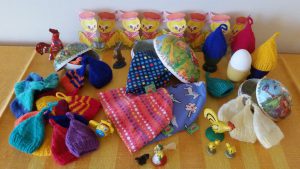 Kontakta mig via min mail om du vill beställa.
Place your order on my mail adress.
+46705950073